Celebrating the new year in Annecy !
WHAT IS THERE TO DO IN ANNECY IN DECEMBER ?
©Lac Annecy Tourisme/Gilles Piel
If the lake, water sports and hiking are our favourite summer activities, winter in Annecy is simply unique ! The lake surrounded by snow-capped mountains, Savoyard fondue, open fires and mulled wine after a day in the mountains. In this article, we reveal our favourite activities for an unforgettable Christmas and New Year in our beautiful region !
What to see and do in Annecy in December ?
The "Noël des Alpes"

Visit to Santa Claus

Outdoor skating rink

Sunset stroll in the Semnoz

Visit to a farm and tasting of local cheeses

Special events
The "Noël des Alpes" – Annecy
During the festive season, Annecy is transformed into a veritable Christmas village, one of the most popular in France. With two markets and 90 chalets, there's no better way to sample the region's specialities and find a few presents !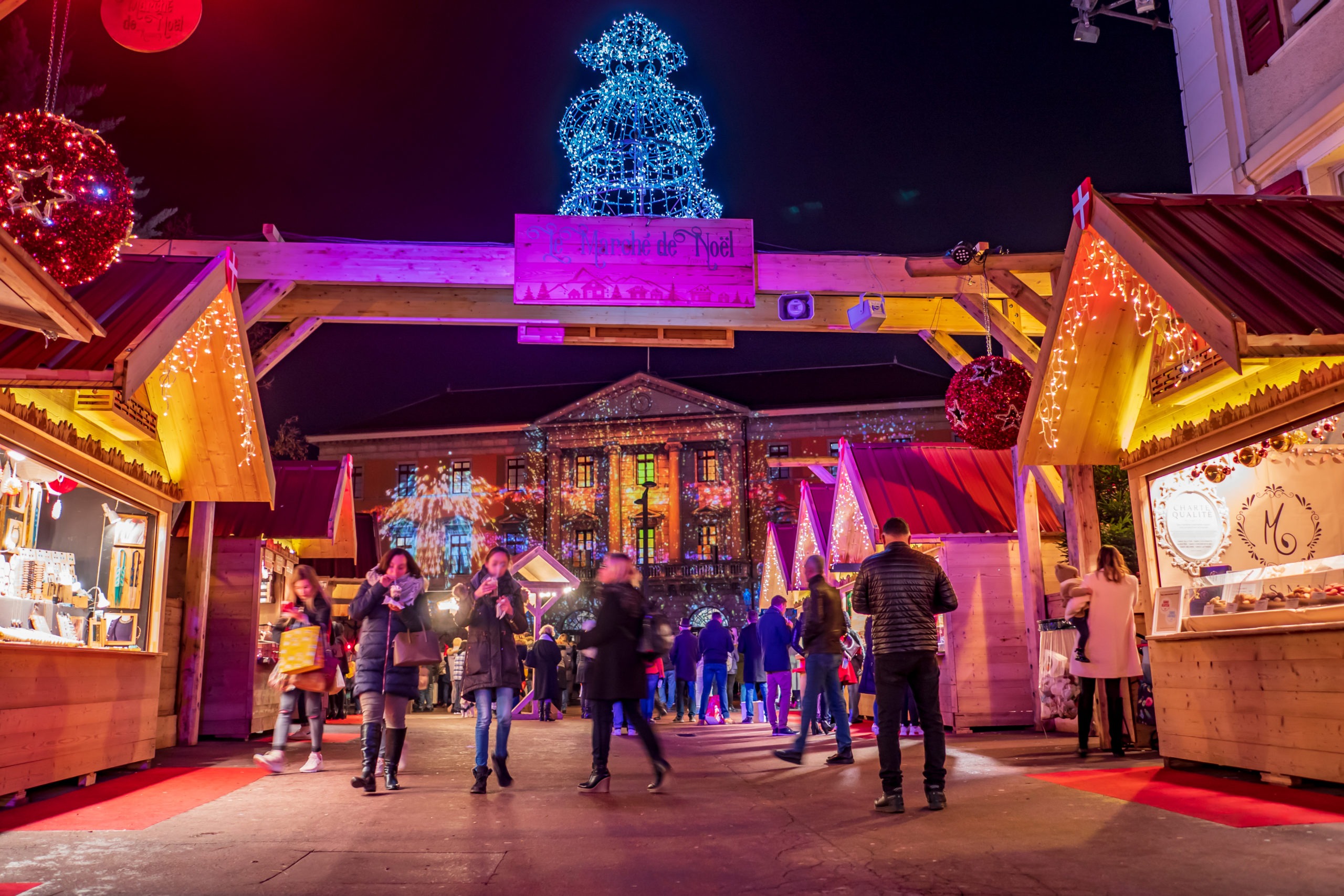 ©Lac Annecy Tourisme/Gilles Piel
The market is actually made up of two markets. The first is located in front of the Town Hall, at the entrance to the old town, close to the old prisons (Quai Vicenza and rue Saint-Maurice). The second is about 10 minutes walk from the first, next to the Courier shopping centre. Nicknamed the "Village of the Alps", at the end of the day you can enjoy the warm and friendly atmosphere of the "guinguettes" and the many refreshment stands: mulled wine, beer or even diots and Savoyard fondue on Place François de Menthon! For the little ones, there is an outdoor skating rink nearby.
Throughout the town, at the end of the day, a real fairy-tale show will take place with a projection of sounds and lights on the façade of the Town Hall: enough to celebrate the magic of Christmas for about ten minutes. As you stroll through the town, you will also discover the numerous illuminated decorations that adorn our Venice of the Alps every year: around 425 decorations throughout the town, 13 light shows and 6.5 km of garlands.
For further information click here:
https://www.lac-annecy.com/fete-et-manifestation/noel-des-alpes-annecy/ 
Visit to Santa Claus – Andilly
To await the arrival of Santa Claus, young and old, come to Andilly to visit Father Christmas (or the bogeyman for the less well-behaved!). Just 30 minutes from Annecy, rain or shine, the indoor Santa's Hamlet and the outdoor "Grand Parc de Noël" open their doors for a wonderful family moment !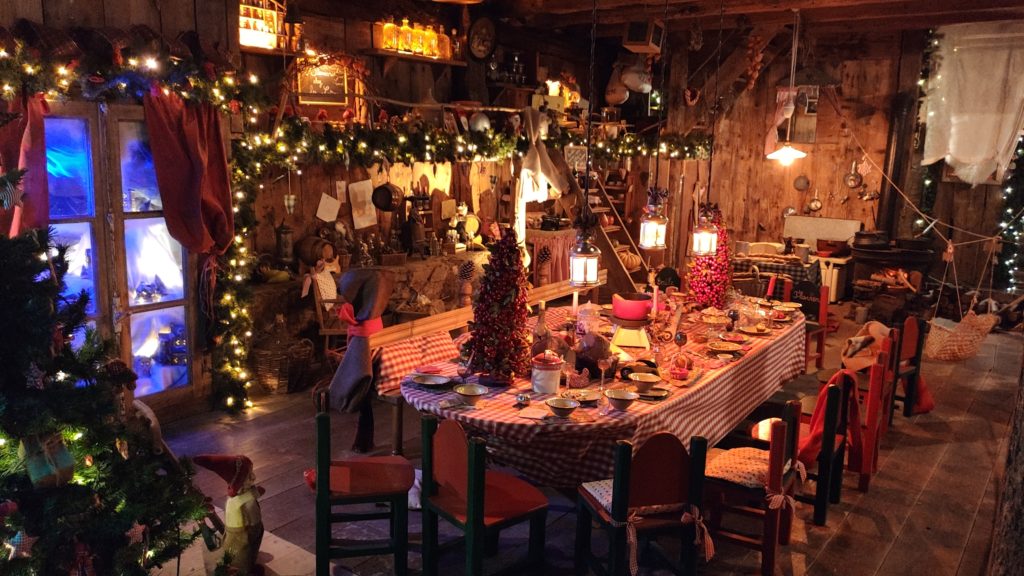 In Santa's Hamlet, let yourself be led into this enchanted world, passing through the Elf House, the workshops and Santa's room. Take a seat in the thatched cottage and listen to Mother Christmas tell you a wonderful story! For the most generous children, Father Christmas loves to receive gifts: go to the attic and offer him a soft toy, a sweet or, for those who feel ready, their pacifier…
Two minutes away by car (or shuttle), the Grand Parc de Noël awaits you for a moment outdoors, but not only! Enter Santa's kitchens, meet the Scarecrow (for the wisest…), visit the Nutcracker Palace. Then get lost in the Christmas maze or put on your skates for a moment of fun. Along the way, you might even come across one of Santa's reindeer or one of the Three Wise Men's camels. Before you leave, don't forget to leave your Christmas letter in the Elf Garden…
Click here for more information: https://www.grandparc-andilly.com
Outdoor skating rink – La Clusaz
Whether the weather is good or bad, head to La Clusaz to put on your skates and have fun with family and friends on the indoor ice rink in the centre of the village ! In La Clusaz, skiing is the rhythm of your week ! For those who like to party, there is a nightclub on skates on Thursday evenings with a DJ on the turntables; on Friday evenings, you can borrow sticks and pucks for an introduction to ice hockey; on Sunday mornings, "Family" sessions are organised for young and old to discover this sport in a playful way; while "Bumpers" sessions await you from Wednesday to Saturday.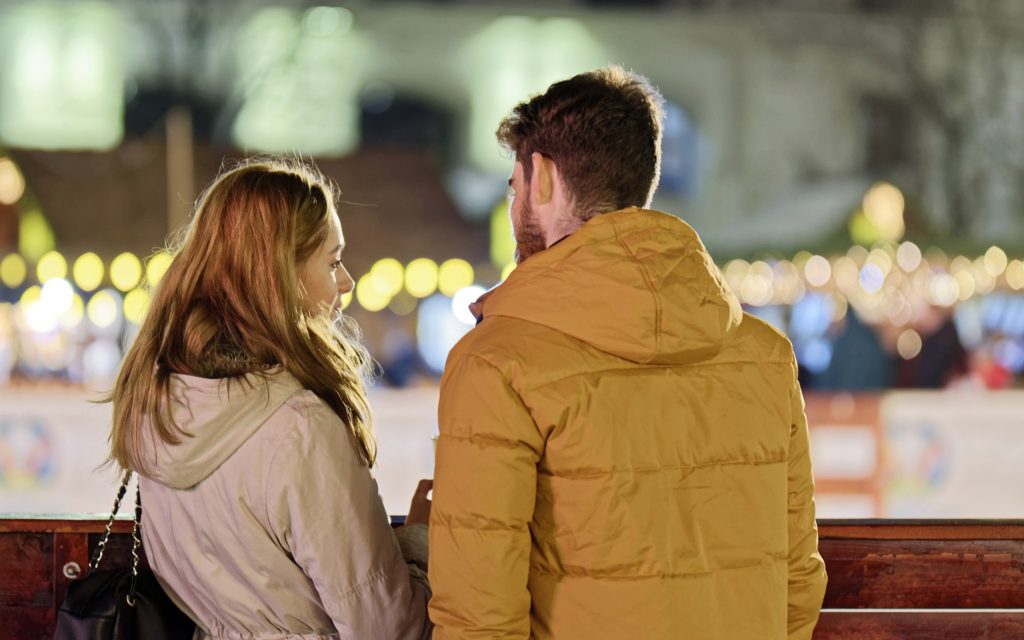 After you've fallen 10 times and laughed 20, head to the Déli Schuss restaurant/café, a little higher up in the village, for a good hot chocolate (or mulled wine) and some of the best waffles you'll find in La Clusaz!
Click here for more info: https://www.laclusaz.com/hiver/patinoire.html 
Stroll in the Semnoz – Annecy
Our favourite activity: a sunset walk to the top of Semnoz, with a panoramic view of the Bauges massif on one side and the countryside between Aix les Bains and Annecy on the other! Often little known by visitors, in winter Semnoz is a family resort where you can enjoy Nordic and alpine skiing, tobogganing or even snowshoeing at much more attractive prices than other surrounding resorts. You can be sure to be in a quiet place 😉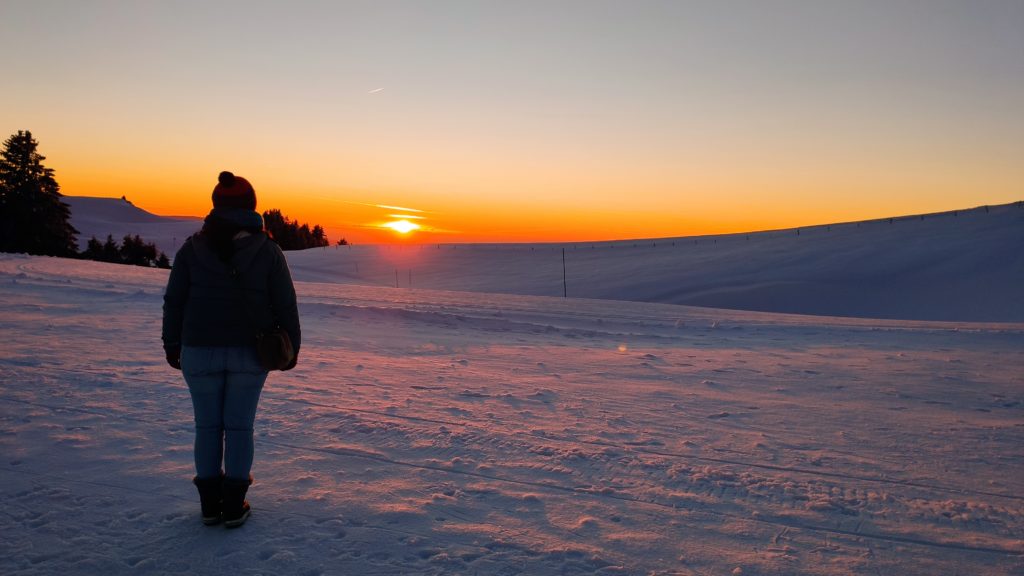 Farm visits and tasting of local cheeses
It is impossible to come to Annecy without tasting our local cheeses. Gruyère, Raclette de Savoie, Tome des Bauges, Beaufort or Reblochon… Dozens of cheeses are produced in the region, and if you have ever been here in the summer, you must have seen the cows grazing freely in the mountains! The quality of their fodder makes for good cheese, and there is no shortage of farms and dairy cooperatives in the region for our enjoyment.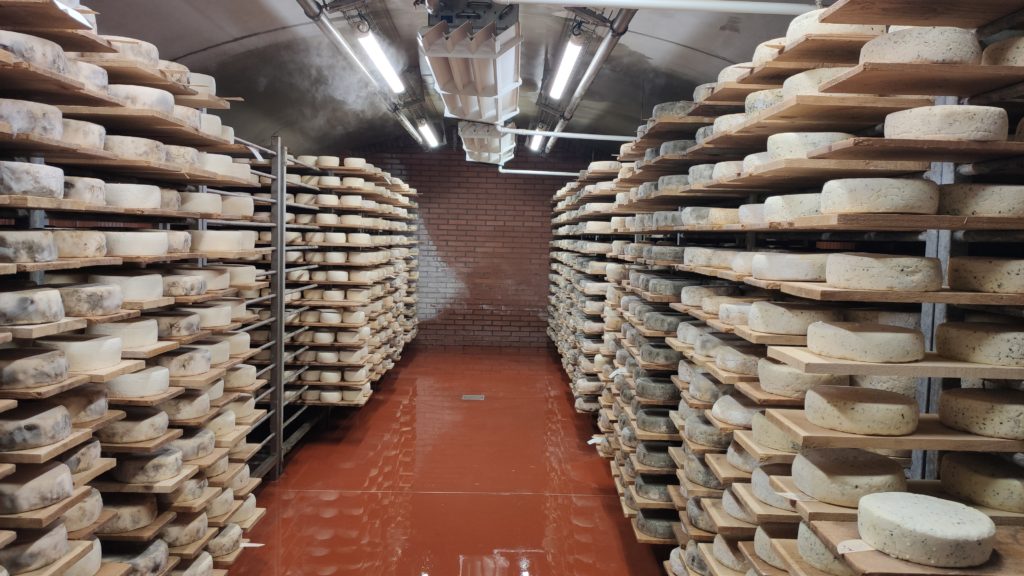 In winter, you can visit farms in the Bauges or the Aravis to see the cows in the barn and buy delicious cheeses to eat with good sourdough bread.
Our favourites: Reblochon, of course, still young to preserve the good aromas of raw milk and hazelnut; and Manigodine, a rare cheese made in Manigod, near La Clusaz, which is a type of Reblochon slowly matured with a circle of spruce, which gives it a delicious resinous taste !
"Pectacle du Père Noël" at la Clusaz
The biggest winter street fair for young and old ! From Monday 19th to Saturday 31st December, the village will be lit up and the magic of the shows will take us into a magical world. A must see!
https://www.laclusaz.com/pestacles-du-pere-noel.html
Christmas activities in Grand Bornand :
A neighbouring village to La Clusaz, Le Grand-Bornand rivals in imagination to delight us during the Christmas period. Fireworks, creative workshops, children's bouncy castle, gospel concert… All free or at very low prices. We love it!
https://www.legrandbornand.com/un-noel-au-grand-bornand.html
Every first Tuesday in December, since the Middle Ages, it is time to unpack the shopping streets of Annecy! In 2022, this traditional market will take place on the 6th of December, bringing together the existing shops in Annecy and attracting traders from all over. It's time to do some good business !
https://www.lac-annecy.com/fete-et-manifestation/foire-de-la-saint-andre-annecy/ 
And to get your personalized programme, discover our offers by clicking here.
Enjoy your stay in Annecy!